How to Plan for Events After Coronavirus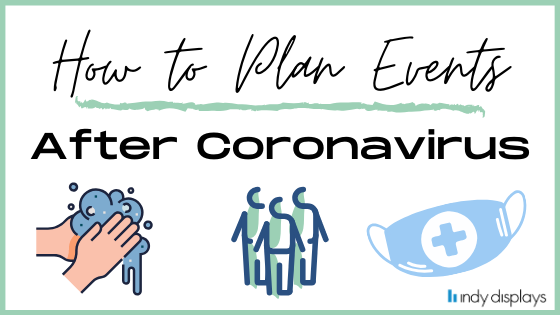 The process of planning and preparation will undoubtedly change for events after coronavirus quarantine measures. Disease prevention measures will be implemented not only for the trade show attendees, but also for booth and facility staffs. Public health concerns will be top of mind for anyone attending large gatherings. Enacting socially responsible operations will set companies apart from each other in the minds of potential customers. While event organizers will develop actions for every exhibitor and attendee to take, exhibiting companies should take as many additional actions as possible to ease any fears. Here are five health and safety strategies your trade show marketing team can implement to prepare for conferences and trade shows in a post-COVID-19 environment.
Send Branded Face Masks to Attendees Prior to the Event
Face mask have taken on a dual purpose as both a recommended safety precaution and fashion statement. Sales of personalized masks have exploded on-line and trade show suppliers have started offering branded masks due to the high demand. While handing out masks at the event is a logical step, companies can go one step further in building relationships with current and potential customers by providing masks before a trade show.
A common tactic of trade show marketers is to perform outreach to event attendees and remain in contact with them leading up to the event. A great way to make a lasting impression is to send packages of branded face masks for use during the trade show. Attendees will make plans to get masks before the trade show; the free convenience will go a long way with potential and current clients.
Place Hand Sanitizer Dispenser Branded Stands in Booth Area
It goes without saying that we can expect hand sanitizer dispensers to be everywhere in public places and events after Covid-19 risks has lessened. Companies will be putting in place health regulations and policies that should extend to all events and activities outside office buildings and headquarters. While in-office sanitation stations can be branded or unbranded, any health safety supplies outside of the office should include some type of promotional branding.
A smart cost-saving strategy for businesses would be to buy branded hand sanitizer dispenser stands in bulk and distribute them throughout office floors and to events as needed. Trade show marketing teams would not need to worry about procuring them ahead of time, as the exhibiting company would already have plenty in stock and ready to go. Taking sanitation precautions will be an absolutely vital practice to ease public health concerns while doing business and keeping extra hand sanitizer dispenser stands on hand will make that task easier.
Practice Social Distancing Measures
Despite attending large events, people will still be practicing social distancing methods out of concern for their health. Companies should do their best to make the practice as easy as possible for their current and potential clients. Taking stock of attendee concerns prior to a trade show in terms of their schedules and health concerns will help teams plan their sales strategy. A tip is to offer an abundance of meeting opportunities outside of the official event activities This will keep the amount of people at your booth to a minimum.
This strategy is especially helpful when engaging with current customers; fostering goodwill by prioritizing their safety will help sales team maintain great business relationships. For new clients, trade show staff can work to schedule meetings with their booth attendees outside of the crowded exhibit floor. Teams could also plan to be in the trade show host city for an extended amount of time to allow for more meeting opportunities. The hotel industry is one of the most health safety cautious industries in the wake of the coronavirus pandemic and companies can express concern for the safety of their employees while traveling by recommending prevention methods and curfews.
Utilize QR Codes
Posting QR codes for scanning at trade shows is not a new method of information sharing. The small, square printed graphics are meant to be decoded by smartphones to reveal promotional codes, contact information, and websites. However, they provide a great contactless way to pass on the contact information for a sales team member instead of passing out business cards. Companies can save both printing costs and prevent the spread of germs by bypassing the provision of business cards to their employees for events after coronavirus. QR codes can be printed on any trade show display and in any location, which offer a quick and health-conscious way for attendees to gather a company information on products, services, and team members.
Clean Event Displays and Counters Regularly
Actions speak louder than words, and one of the best ways for trade show exhibitors to take actions against the spread of coronavirus or any other illness is to ensure their booth remains sanitized. Companies should provide their staff with plenty of cleaning supplies, including disinfectant sprays and wipes. Instructions should be provided to trade show staffs to regularly clean the entire display area at designated time increments, such as every 30 minutes. This will not only demonstrate social responsibility and a value for public health but will also ease the minds of exhibit attendees.
Planning events after coronavirus will require companies to look at their entire sales strategy and work to implement public health safety measures in all activities. Both employees and attendees will benefit from sanitation efforts and the peace of mind those efforts provide. Companies need to take these tactics seriously because Covid-19 prevention and public health are everyone's business.