August 4th, 2014
Comments off
Formulate Trade Show Displays Are Eye-Catching And Budget Friendly
Our Formulate Trade Show Displays have now been one of our top sell display lines for two years.  With regular updates to the designs and kit offerings, clients have added more than one unit to their exhibit catalogue.  Not only do these outstanding displays set up easy and save on shipping, Formulate displays are clean, modern, and professional looking from the table top version to 20′ x 20′ custom combination kits.  The display frame is made out of light weight durable aluminum that includes a series of pieces that simply snap and lock together.  The graphics are printed on wrinkle-resistant poly knit fabric are are printed using the dye sublimation printing process.  A zipper is attached to each pillowcase graphic that is available in single or double sided that simply slides over the frame and tightens by quickly zipping up one end.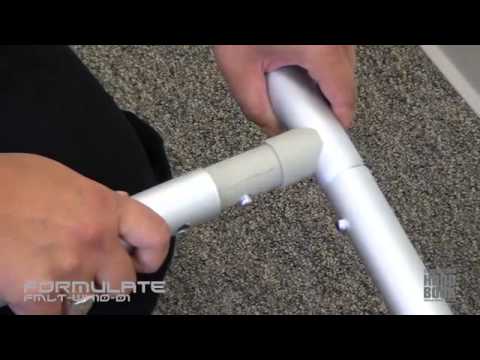 As you can see from our Youtube setup video, laying out the display pieces, putting them together, and sliding the graphic over the frame is a breeze!  Another outstanding feature to this exhibit line are the accessory options.  Create a custom look by adding stand off frames that can hold aluminum brochure holders, laminate shelves, or monitor mounts.  Add two or even three monitors to the 10′ x 20′ Formulate Displays to create an affordable multi-media exhibit.  20ft Formulate Displays do not have to just be inline solutions.  Design a 20ft serpentine frame to have a double sided graphic and multi-media on both sides.  This serpentine layout is ideal for 20′ x 20′ booth layouts along with large solutions.  The Formulate line even allows you to add a monitor to the table top kit.
Formulate Table Top Displays Offer Multi-Media Solutions
As mention before, simply add a stand off frame to the table top kit to hold up to a 24″ monitor.  If requested, we can customize the table top display to hold an iPad, iPad mini, or Surface 2 tablet.  The Formulate table top display is available with four frame styles, the flat, vertical, horizontal, and tapered style.  All table top formulate displays can be shipped in 3 to 5 business days upon artwork approval and quantity discounts will be added to orders of 3 or more.
Formulate 10′ x 10′ Displays create a fully custom 10ft trade show display layout
Out of all the Formulate Trade Show Displays, the 10′ x 10′ kits are our best sellers.  For one, 10ft booth spaces are the most common, but in addition Formulate Displays offer some of the most affordable customizing for 10ft booth spaces.  Plus, 10ft Formulate Displays are eye-catching exhibit kits.  Almost any custom feature is possible that includes, laminate shelving, monitor mounts, iPad attachments, suspended literature holders on cables, stand off graphics including custom cut headers, and kiosk stations.  Add one of the Formulate trade show counters to complete the booth.  Out of the three frame shapes (vertical, horizontal, straight, serpentine), the vertical formulate frame seems to be the most eye-catching.  As you can see in the image below, the vertical frame gives you a unique design, depth, and the most custom capabilities.
10′ x 20′ Formulate Trade Show Displays Bring Value and Versatility
One thing about the 10′ x 20′ Formulate Trade Show Displays is that they can be used in large booth spaces.  Most of the time they are utilized in a 20ft inline booth space, but exhibitors have used them in 20×20 island display spaces and even large solutions.  Double sided serpentine Formulate Displays work great in an island exhibit if you create a double sided graphic.  Like the 10ft Formulate Displays, the 20ft kits include vertical, horizontal, straight, and serpentine frame kits.  All 20ft Formulate tension fabric kits can be shipped in 5 business days upon artwork approval.
All of our Formulate Display Trade Show Displays projects can include custom renderings and email proofs prior to printing so you know exactly what your trade show booth will look like before receiving it.  In addition, each display order will go through our quality control department and be set up before shipping to insure the display is completely functional.  Please contact us for more information on the Formulate Displays or other portable display options.