September 30th, 2014
Comments off
The
expolinc

Magnetic Pop Up Display is Truly Custom!

The expolinc Magnetic Pop Up Display is the only pop up display system on the market that allows you to create at complete custom booth just like a custom modular display.  This display has rapidly been growing in popularity due to the versatility and savings it provides on drayage and shipping.  Completely customize you small or large booth space with accessory options that include clear acrylic shelf kits, screen holders, various lighting options, and various heights and graphic finishes.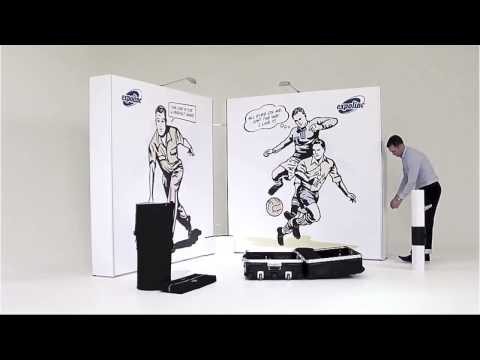 expolinc

Magnetic Pop Up Display Case Study

Just ask the company of DeLaval, largest dairy equipment manufacturer in Canada, who decided to use the expolinc Pop Up Magnetic for their 30ft. x 50ft. display booth. DeLaval had the options of using a custom modular display, but decided on using the custom pop up instead. Using expolinc's system saved them more than 50% on show site services than that of a custom modular booth, along with being ten times less expensive to transport. Not only did DeLaval save money in purchasing the hardware, but also in the labor cost in setting up the booth. Any custom modular aluminum display easily takes a minimum of 8 hours set up. With Expolinc's PUM, two employees of DeLaval set up the entire booth in two and a half hours.
DeLaval realized how quickly and easily the Pop Up System can be reconfigured to their needs. They realized this benefit quickly, because three days before the trade show, they realized that they had a 20ft. x 50ft. booth instead of the 30ft. x 50ft. layout they had original thought that they had. This was not a problem as they could easily remove some of the sections of the Pop Up and continue forward without any headaches. This difference in size would have been a catastrophe if the booth were built from custom modular display hardware, as everything would have been predesigned for the initial size. expolinc showed DeLaval why the Pop Up Magnetic trade show display should be a go to for all of their trade shows. Save yourself time, money, and stress, use the expolinc Pop Up Magnetic for your next show.
expolinc Magnetic Pop Up Display Examples:
For more information or to setup an in office consultation please contact an exhibit consultant at 317-565-2255.  The custom expolinc pop up displays can be built in 10 business days after final artwork approval.