Enhance Your Booth Space with Backlit Trade Show Displays
Portable SEG fabric display booth systems have recently been popular amongst competing expo industry manufacturers. Once a manufacturer launches a newly-engineered product line, other suppliers within the industry are beginning to replicate the design and functionality within a few months. This situation is making it difficult for many exhibitors to purchase a truly unique display booth. Unless an exhibiting company incorporates full custom fabrication into a new booth design project, small to medium size exhibitors will find it difficult to create a perfect eye-catching trade show display that's within budget.. However, recent advancements in LED lighting and SEG fabric technologies are being incorporated into standard display systems, making portable backlit trade show displays now the most sought-after booth enhancement option available in the exhibition industry.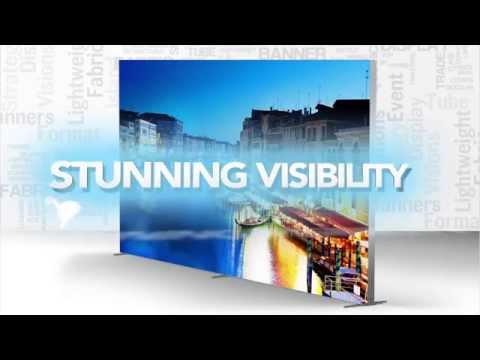 Backlit Trade Show Displays
Backlit Displays are the ideal modern exhibitor branding solution for standard inline booth spaces and larger island exhibit booths. Exhibitors can combine multiple double-sided LED modular light box SEG fabric booth walls (example shown above). In addition, display booth designers are integrating LED backlit structures into various layout configurations that include flat backlit circular hanging disc signs, large 12′ to 16′ tall square and circular LED graphic light towers, free-standing portable LED backlit graphic counters and new LED illuminated – elevated event flooring. Furthermore, apart from its ability to enhance marketing booths, Backlit Trade Show Displays are becoming increasingly popular in the commercial sign industry. In retail markets, Outdoor LED signage and interactive LED digital signage are becoming common branding options in commercialreal estate, retail market and hugebranding facilities like museums, airports and big outdoor venues.
Portable backlit displays have recently been the rave of the moment in trade show booth designs. Thisis markedby a sharp drop in the price of the modern LED technology, where LED trade show backlighting has witnessedwidespread attention in the past two years. Illuminateddye sublimation graphics printed on premium opaque fabric materials like our premium "TriFab", which significantly enhances the image and colorquality through modern 'High Definition' large format printing or HD dye sublimation quality printing. Also, a plummet in the wholesale price has been the primary reason behind the recent emergence of backlit trade show displays.
Want to grab the audience's attention when they walk by your booth space?  Placing a 4'w x 8'h Modular edge-lit LED light box stand in the front of your promotional floor space will do the trick!  Use these displays in an inline booth space or in the front corners of an island booth space.  The modular LED light box displays are available in six different standard frame sizes with a single sided graphic or double sided graphics.  If one of these four standard sizes doesn't work for your booth, let us build a completely custom size.  Floating seamless SEG fabric graphic monitor mounts, quick attaching brochure holders and floating light box display product shelving that instantly attaches to the modular frame using magnet connection, are just a few standard backlit display stand accessory enhancements that Indy Displays keeps stocked and ready for expedited delivery!
Indy Displays top-selling portable backlit exhibit wall is the brand-name Pliko modular LED "edge-lit" fabric light box display. This tool-less assembling modular 10' x 10' SEG backlit fabric wall, is one of the few portable exhibit solutions that can easily be setup and dismantled by one user, making it the easiest custom modular LED light box display to manage available on the market. The creatively engineered Pilko black powder coated aluminum free-standing single-sided or double-sided SEG graphic display frame, simply packs down in 1-flatpack wheeled hard case that can be affordable shipped standard UPS or Fedex Ground, making Pliko the lightest and most minimalistic LED edge-lit backlit display stand in North America.
Indy Displays' modern LED backlit display solutions create stunning SEG stretch fabric graphic mural illumination, without graphic hot-spotting or fabric panel wrinkling. The term "hot-spotting" refers to internal light shadows visible from the front side, which are created by poorly configured internal light box hardware or uneven light distribution. These issues are commonly seen on cheaper low-cost backlit display alternatives that include direct ink jet printing on the topside of thin fabric materials and improper light bar hanging or LED light strip placement.
The Pilko ultra-portable LED edge-lit light box free-standing sign wall remains one of our top-performing backlit trade show display. However, the emergence of the hybrid SEG fabric backlit pop up display (released in late 2017) has quickly become our #1 low-cost alternative to the well-known brand-name Pliko light box display. Unlike Pilko, the Hybrid SEG backlit pop-updisplay promises an even more portable and user-friendly booth setup and dismantle. The new SEG backlit pop up display system is a hybrid spinoff system of the traditional Burst tension fabric backlit display, except with much better graphic attachment components, 100% wrinkle free SEG fabric panels and sustainability. This hybrid frames can be reused by exhibitors for years and can also reconfigure into large backlit display stands and different SEG light box booth wall structures.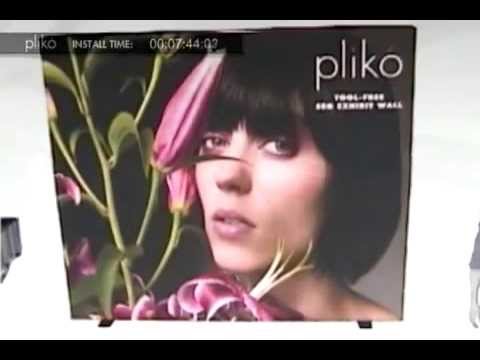 Up until 2017, our top-selling backlit trade show displays were the Pliko ultra-portable LED edge-lit light box display and the traditional Burst fabric backlit pop up displays. However, this year the Indy Displays innovative team added the new hybrid SEG backlit pop up display product line. Unlike our long time best-selling Burst backlit pop up display system, the new NEXT! SEG hybrid backlit pop up display and our next generation LED illuminated SEG modular pop up system offer simple user-friendly setup similar to the Burst display, plus an all new hybrid light box frame configuration! Now enjoy light box brand and logo illumination with your portable backlit pop up system without the worries of possible fabric graphic wrinkling (common fabric display issue that occurs after the user doesn't properly repackage the display kit).
Backlit SEG Hybrid Pop Up Displays
combine the seamless wrinkle resistant SEG finishing technology with a unique pop up display that offers an all new and 'next generation' portable LED light box exhibit booth solution. Also, apart from the wrinkle-resistant fabric sign graphic panels, the SEG pop up systems also come in modular booth resize options that were up until this point only available for aluminumdisplay hardware. Now, you can easily increase the size of your pop-up stand from 8' x 10' light wallto a bigger 8' x 20' portable SEG light box booth wall by easily adding an extra pop up frame, SEG graphic bars and extra light bars.

Light Box Backlit 3D Cube Structures
has quickly become a popular backlit signage system for innovative exhibiting teams and commercial interior designers. This Graphic Cube features a lightweight modular aluminum frame, SEG fabric graphic panels and internal LED lighting on all sides. The 3D backlit graphic structure may also be used as floor standing cubes – commonly used as a 3-unit floor stack display – and can be suspended from a convenient ceiling height and used as a hanging light box sign.
This modern state-of-the-art illuminating graphic structure is available in standard frames and can easily be customized to meet any display booth fabrication requests. Also, the Backlit LED graphic cube setup and breakdown is user-friendly and very similar to standard custom modular light box display kits. Printed graphics are brilliant and rich thanks to the latest HD dye sublimation output technology that reveals a rich saturated color when illuminated. Each SEG fabric panel is stretched using a silicone edged strip attachment that makes for a wrinkle-free and stunning 3D illuminated signage structure.
SaveSave
SaveSave
SaveSave
SaveSave
SaveSave
SaveSave
SaveSave
SaveSave
SaveSave
SaveSave
SaveSave
SaveSave
SaveSave